Pennsylvania Medical Marijuana Act
Date:
Monday, September 25, 2017
Location:
The William Penn Inn
Speaker:
William G. Roark, Esq.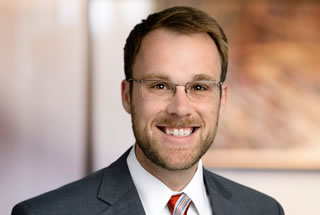 By Spring, 2018, medical marijuana will be available for qualified patients in Pennsylvania. This course will provide you with a brief explanation of the Medical Marijuana Act and explain how this industry is impacting the legal profession. What issues will you need to identify in your estate planning practice? How does the federal prohibition impact your client's goals and your practice? These questions and yours will be answered in a relaxed and informative CLE setting addressing one of the most exciting emerging legal markets in recent years.
Link to "Banking and the Marijuana Industry" https://www.moneylaunderingwatchblog.com/2017/07/2677/ ​ This article is also relevant to our April 23rd meeting topic of "Bitcoin & Cryptocurrencies - Implications for Wealth Management"
William G. Roark is a Principal of Hamburg, Rubin, Mullin, Maxwell & Lupin, P.C., and a member of the firm's Litigation Department. He focuses on environmental litigation and catastrophic injury cases. His litigation experience includes representing those suffering from: traumatic brain injuries; medical malpractice and exposure to dangerous chemicals.
Mr. Roark also represents individuals and businesses in the medical marijuana industry by helping them comply with Pennsylvania's Medical Marijuana Act. His time is spent assisting clients to understand the permitting application process and the requirements associated with entering this industry. Because he has remained on the forefront of the legislative development and implementation of the Act, Mr. Roark has been asked to plan and present at various educational seminars teaching other professionals about this new law. Since 2014, he has devoted his time to expanding the legal profession's knowledge and awareness of the Medical Marijuana Act and its precursors so that profession can be better prepared to meet the numerous legal needs on the horizon.
Mr. Roark is an active member of the Montgomery Bar Association, chairing and participating in various committees. Mr. Roark is a past editor for the Montgomery County Law Reporter, past chair of the Environmental Law Committee and a contributing editor to Montgomery County's Civil Practice Manual. He serves as a member of the Board of Directors of Legal Aid of Southeastern Pennsylvania. In 2016, Mr. Roark was selected to participate in Montgomery County's prestigious Leadership Academy.
A graduate of Bucknell University (B.A. Economics, cum laude, 2003), Mr. Roark received his law degree with honors in 2006 from Villanova University where he served as a member of the Villanova Moot Court Board Executive Committee. Prior to joining the firm, Mr. Roark worked for Environmental Equipment Inc., where he helped usher in the green-age by selling, servicing and installing solar pool heating systems.
For seven consecutive years (2010-2016) Mr. Roark has been selected for inclusion in Super Lawyers – Rising Stars Edition. No more than 2.5 percent of the lawyers in the state who are 40 or younger, or who have been practicing for ten years or less, are named to the list each year.
Practice Areas
Environmental Law

Environmental Litigation

Litigation

Catastrophic Injury Cases

Medical Marijuana Law
Education
Bucknell University (B.A. in Economics, cum laude, 2003)
Villanova University School of Law (J.D., cum laude, 2006)
Bar Admissions
Pennsylvania

U.S. District Court, Eastern District of Pennsylvania

United States Court of Appeals for the Third Circuit

United States Court of Appeals for the District of Columbia Circuit
Speeches/Publications
Quoted in article "New Pa. Rule Clears Path for Medical Cannabis Practices," The Legal Intelligencer, November 1, 2016.
Medical Marijuana Legislation Update, Co-Presenter, Montgomery County Zoning Officers Association, September 14, 2016.
Quoted in article "Medical Marijuana: Temporary regs for growers and processors raise questions," Central Penn Business Journal, August 25, 2016
A New Reality: Pennsylvania's Medical Marijuana Act, Course Planner and Presenter, Pennsylvania Bar Institute, Philadelphia, June 14, 2016
A New Reality: Pennsylvania's Medical Marijuana Act, Course Planner and Presenter, Pennsylvania Bar Institute, Mechanicsburg, June 8, 2016
Quoted in article "Ethics Rules for Pot Practice Less Hazy," Legal Intelligencer, April 22, 2016
Quoted in article "Ethics Rules Haven't Caught Up To Medical Marijuana Legislation," Legal Intelligencer, April 15, 2016
Medical Marijuana Coming to Pennsylvania: a question or a statement?, Course Planner and Presenter, Pennsylvania Bar Institute Webinar, April 11, 2016
Pennsylvania's Proposed Medical Cannabis Act, Course Planner and Presenter, Pennsylvania Bar Institute Webinar, November 23 and December 8, 2015
Seeing Green: Is Pennsylvania Next to Regulate Medical Marijuana? Discussion on the Social Economic & Political Implications of Pennsylvania's Medical Cannabis Act, Panelist, Bucknell University, November 5, 2015
Proposed Pennsylvania Medical Cannabis Act: The Nuts and Bolts, Speaker, Pennsylvania Bar Institute Webinar, June 17, 2015
Municipal and Zoning Aspects of Pennsylvania's Medical Cannabis Act, Speaker, Montgomery County Bar Association, May 21, 2015
Is Medical Marijuana Coming to Pennsylvania? Speaker, Pennsylvania Bar Institute Webinar, April 9, 2015
Bill has also been published in the Legal Intelligencer for an article entitled "Understanding the Value of Plain English."
Professional and Civic Memberships
Legal Aid of Pennsylvania; Board Member

Pennsylvania Association for Justice (Formerly Pennsylvania Trial Lawyers Association); past Board Member

Pennsylvania Bar Association

Montgomery Bar Association

Editor, Montgomery County Law Reporter (2010-2012)

Officer of Young Lawyer Section (2011-2014)

Civil Rules Committee Member

Civil Practice Manual Committee Member
Honors and Awards
Selected for inclusion in Pennsylvania Super Lawyers – Rising Stars Edition 2010-2016