2019 Economic/Market Update
Date:
Monday, January 28, 2019
Location:
The William Penn Inn
Speaker:
Ed Boehne; Haverford Trust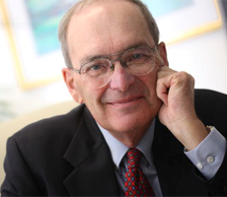 Ed joined the Philadelphia Federal Reserve in 1968 and subsequently was promoted to President in 1981, a position he held until May 31, 2000. He is a graduate of Indiana University in Bloomington, Indiana where he also received a Ph. D. in Economics.
Ed is active in community affairs. He has served as Chairman of the Board of Managers of Pennsylvania Hospital, Chairman of the Board of the University City Science Center, a director of the Urban League of Philadelphia, a partner in the Urban Affairs Partnership, a director of the United Way and the Union League, as well as a trustee of the Baldwin School and Thomas Jefferson University.
Since retiring from the Federal Reserve, he has joined several other boards of directors, including Haverford Trust Company, Toll Brothers, AAA Mid-Atlantic, Beneficial Savings Bank and Penn Mutual Life Insurance Company.

Thank you to Haverford Trust for sponsoring this meeting. Please visit their website at https://haverfordquality.com/.