Orphans' Court Update
Date:
Monday, March 25, 2019
Location:
The William Penn Inn
Speaker:
Honorable Cheryl L. Austin and Honorable Lois E. Murphy; Orphans' Court, Montgomery County, PA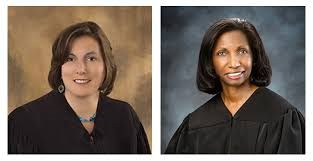 5:30pm Cash Bar, 6:15pm Dinner, 7:00-8:00pm Council Business and Program
Join us for a panel discussion about recent developments in the Montgomery County Orphans' Court. The Orphans' Court Division approves adoptions, and hears a wide variety of matters including terminations of parental rights, guardianships, will contests, trust and estate matters, and matters related to minor's estates and non-profits.
Judge Lois Murphy is a Judge of the Court of Common Pleas in Montgomery County, assigned to the Orphans' Court Division. She has been serving since January 2010 and succeeded the Honorable Stanley R. Ott as Administrative Judge of the Orphans' Court Division in January 2015.
Judge Murphy is a member of the Pennsylvania Supreme Court's Advisory Council on Elder Justice in the Courts, and serves as the co-chair of the Orphans' Court Section of the Pennsylvania Conference of State Trial Judges. She also serves as the co-chair of the Pennsylvania Courts Working Group on Public Access.
Judge Murphy graduated from Harvard College in 1984, magna cum laude and Harvard Law School in 1987, cum laude.
Judge Murphy served as a law clerk to the Honorable George C. Pratt of the United States Court of Appeals for the Second Circuit, then served as a trial and appellate litigator in the Civil Division of the United States Department of Justice, and then as in-house counsel to a national non-profit organization advocating for women's rights. Judge Murphy practiced law at Morgan Lewis in Philadelphia and at Heckscher, Teillon, Terrill & Sager, in West Conshohocken, Pennsylvania. She is a frequent lecturer on topics including Guardianships, Access of Justice for Older Adults, End of Life Decisions, Orphans' Court practice and procedure, and the Pennsylvania Uniform Trusts Act.
The Honorable Cheryl Lynne Austin is a Judge of the Court of Common Pleas in Montgomery County, assigned to the Orphans' Court Division. She has been serving since November 2011. Prior to ascending to the bench, she was an attorney practicing elder law, criminal defense, and estate resolution. Before entering private practice, Judge Austin served as Assistant Solicitor and Assistant District Attorney for Montgomery County. Judge Austin also served as an adjunct professor at Palmer Theological Seminary in Wynnewood, PA.
Judge Austin retired as a U.S. Navy Captain in 2004, after 24 years of active duty and reserve service. She attended Capital University Law School at night, while working as Human Resources Director for the Ohio Secretary of State.
Judge Austin has been recognized by the American Business Women's Association as an "Outstanding Business Woman" and was named a "Rising Star" among Elder Law attorneys for Philadelphia Magazine. The Legal Intelligencer awarded Judge Austin its "2012 Woman of the Year" award.
Thank you to the Montgomery County Foundation, Inc. for sponsoring this meeting. Please visit their website at http://mcfoundationinc.org/.