The Exploding World of Guardianships
Date:
Monday, October 28, 2019
Location:
The William Penn Inn
Speaker:
Donald Petrille, Jr. Attorney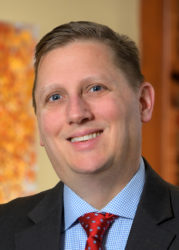 5:30pm Cash Bar, 6:15pm Dinner, 7:00-8:00pm Council Business and Program
As our population ages, the need for guardianships for persons incapacity by age, disease or disability has markedly increased. In 2014, the Pennsylvania Supreme Court's Elder Law Advisory Task Force found that court procedures concerning the appointment of guardians of incapacitated persons were not uniform throughout the state, and that often courts lacked all of the information required to properly assess the need for a guardianship.
The task force also found that there was very little oversight of the activities of guardians, and that very few courts were enforcing existing legal requirements to file annual reports on guardian activities and transactions. In 2019, the Pennsylvania Supreme Court promulgated new rules requiring more detailed information be disclosed to the court regarding the appointment of guardians, including medical information of the incapacitated person and criminal background clearances for the proposed guardians. The Court also promulgated new forms for annual reports, which required added detail to the disclosure of a guardian's activities.
Donald Petrille, Jr., Esquire
Don Petrille is the elected Register of Wills and Clerk of the Orphans' Court of Bucks County. Before taking office in January of 2012, Mr. Petrille spent 14 years in the private practice of law. Mr. Petrille's legal practice focused on the needs of small businesses and individuals, focusing on real estate, contracts, estate planning and estate administration.
As Register of Wills, Mr. Petrille has continued his office's participation in the Crimes Against Older Adults Task Force. He has been at the forefront of elder abuse issues, instituting a program that ensured that guardians of incapacitated persons filed mandated reports . . . and that the reports are reviewed by court personnel. The program means there are watchful eyes over hundreds of our most vulnerable citizens. The Administrative Office of Pennsylvania Courts, and the Pennsylvanis Supreme Court have solicited Mr. Petrille's service on various statewide committees, most recently as a contributor to the new Guardianship Tracking System, which allows great tracking and monitoring of guardians and incapacitated persons by stakeholders.
Mr. Petrille has been an active member of the community. He has served on the Board of Discover Dublin, Inc., a community revitalization organization and has donated legal services to various volunteer fire companies in Bucks County. He is a member of the Bucks County Bar Association and the Bucks County Estate Planning Council. On the state level, he is a past president of the Registers of Wills and Clerks of the Orphans' Court Association of Pennsylvania and currently serves as the President of the Pennsylvania State Association of Elected County Officials, which pursue sound public policy in behalf of county government.
Thank you to Freeman's for sponsoring this meeting. Please visit their website at https://www.freemansauction.com/