Elderly Exploitation - Epidemic or Exaggeration?
Date:
Wednesday, September 22, 2021
Location:
The William Penn Inn
Speaker:
Diane Zabowski, Esq. and Dr. George Ledakis Ph.D.
5:30pm Cash Bar, 6:15pm Dinner, 7:00-8:00pm Council Business and Program
Our speakers will address elderly exploitation. Who are the victims? Who are the exploiters? What are the financial consequences for the victim and society?
There are different standards of capacity which are used to determine whether a person may: sign a power of attorney, sign an advanced healthcare directive, enter into a contract or make a gift, and sign a will. Our speakers will explore legal and neurological issues with each standard.
From a neurological perspective, our speakers will examine the role of cognitive impairment in capacity. What is "incapacity"? What does a neuropsychologist do to assess capacity? What factors are relevant? What are the cognitive functions involved in capacity?
Diane M. Zabowski, Esq. is a solo practitioner in Collegeville, PA concentrating in Orphans' Court Litigation, Estate Planning and Estate Administration. Diane has over 30 years' experience serving clients in Montgomery, Chester, Berks and Bucks Counties. She has previously been an associate and partner at several Montgomery County law firms and has served as court- appointed counsel in Guardianship matters.
Dr. Ledakis, Ph.D. is a clinical neuropsychologist and the founder and Director of Brandywine Neuropsychology Associates (BNA). Prior to starting Brandywine Neuropsychology Associates in 2013, Dr. Ledakis was the Director of Neuropsychological Services at Riddle Memorial Hospital with the Center for Neuroscience from 2002 through 2013 where he provided neuropsychological assessment services to adults with a primary focus in the assessment of memory, cognition, mood and the impact of such on behaviors and daily functioning in older adults.
Thank you to our generous sponsor Life Managers. Please visit their website here: https://life-managers.com/.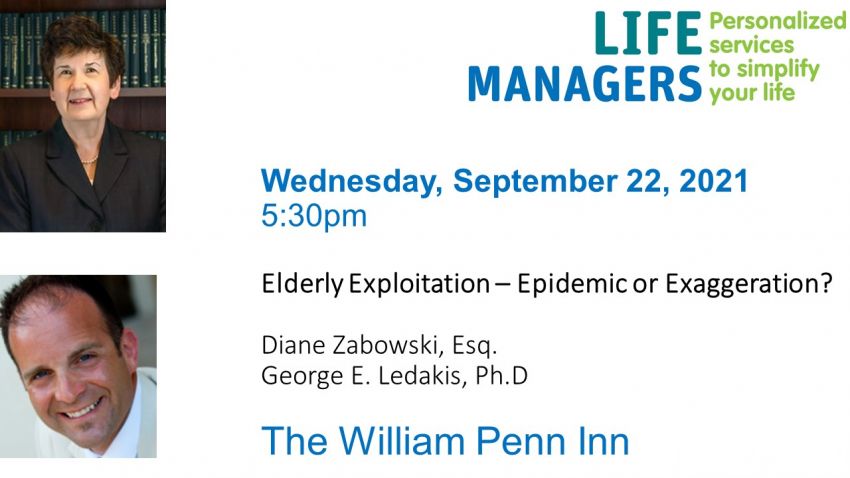 The room will be set up to spread the attendees out as much as feasible. We request, that you wear a mask when not eating or drinking. If you do not feel comfortable with the networking portion of the evening, you are welcome to join us for just the dinner and presentation.